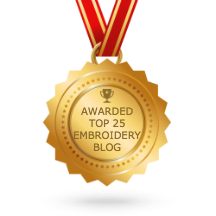 Read the Latest Articles from Industry Leading Professionals John Deer & Sue Brown for Embroidery & Digitizing Tips.
Facebook makes changes – Again! Make sure your newsfeed is full of embroidery!
Sue | March 6, 2018
Facebook is a virtual hub of information – you can join groups, like pages and support businesses and people that you like.  You can peruse your friends and see what they are doing.  You can ask questions and get answers and help when you need it.  It can be a great place to be. Facebook…
Embroidery Case Files – Learn Embroidery in a new way!
Sue | February 27, 2018
We had so much fun doing the Case of the Mysterious Embroidered Shirt series of blogs, we decided to take it just a little bit further! Welcome to the Embroidery Case Files! by Embroidery Art We are going to create a series of videos in the style of a documentary/mystery show, and it is going…
The Future of Embroidery Learning is NOW!
Sue | February 20, 2018
After a long time developing and working on this huge project, we have finally put it all into one place.  This place is the youtube channel called Embroidery Art, and one of our main features is the futuristic sounding FPE or First Person Embroidery.  It is going to change how you learn embroidery! What exactly…
Learning Embroidery Skills in Paradise…
Sue | February 6, 2018
At the date of this blog, we are here in beautiful Costa Rica with Embroidery Master John Deer. And I can tell you that even two days in, it has been quite an experience. I have absolutely loved every minute of it. I have never been to any embroidery classes or any embroidery grouping…
Project Blog: Quick and Easy Valentine's Day Mug Rug
Sue | January 30, 2018
…because you can never have enough Mug Rugs, right?  Why not have one or 10 for every occasion?  Well, OK that may be a few too many in the end, but at least your house would be pretty, and you would have plenty of places to put your mugs!  Plus anything that you create on…
Resizing designs: Yay or nay??
Sue | January 23, 2018
People always want to change.  Change is good, but not necessarily good when it comes to stitch file embroidery designs.  Should you change the size of the designs that you purchase?  If yes, what is a good amount to change?  Are there any guidelines?  What happens when you change the size of a stitch file? …
Design + ESA Elements = Beautiful Quilt block Wall Hanging
Sue | January 16, 2018
If you are like me, you have a huge stash of embroidery designs on your computer.  Some of the designs you created yourself or bought for a specific purpose, and some you just really loved the design, but have not used it yet.  Or you are not sure what to use it for, but still,…
ESI: Embroidery Scene concludes It's investigation of the mysterious embroidered shirt
Sue | January 9, 2018
The Mysterious Store Bought Embroidered Shirt..Part 3 Conclusion Welcome back to solving the mystery!  If you have not read Part 1 and 2, I suggest that you go back and revise what we have figured out so far, because today is the conclusion of the mystery, and we are going to solve the last few…
The Case of the Mysterious Store Bought Embroidered Shirt…Part 2
Sue | December 20, 2017
ESI (Embroidery Scene Investigations) presents: (cue mystery music) The continuing mystery of the embroidered store-bought shirt!  In part 1 we discussed the mystery, and have made a few conclusions so far. In summary: 1.  The shirt was purchased (not by me, but as a gift for Beatrice) in a real brick and mortar store, without…
The Mysterious Case of the Store Bought Embroidered Shirt…Part 1
Sue | December 12, 2017
My youngest daughter Beatrice came downstairs wearing a t-shirt and jeans.  I looked at the shirt and immediately told her to change.  Why?  BAD EMBROIDERY.  REALLY REALLY BAD EMBROIDERY.   After Beatrice showed me the shirt in question, we examined it thoroughly and I quizzed her about the purchase, it was almost like an old fashion mystery novel,…