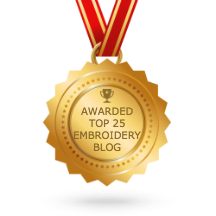 Read the Latest Articles from Industry Leading Professionals John Deer & Sue Brown for Embroidery & Digitizing Tips.
How to Digitize Large Designs & Athletic Uniform Embroidery
johnd | December 5, 2017
johnd If you're thinking about tackling the team uniform market it's really a matter of properly planning your digitizing and production practices. Hopefully, we'll all agree that choosing embroidery and appliqué over silk screening definitely has more visual appeal on a set of team jerseys. Unfortunately, we'll also agree that the pricing differences are also…
So many stabilizers, so little time!
Sue | November 28, 2017
When you are first starting out with embroidery, you need to get a machine plus a ton of other things before you even turn on your machine.  Having the correct thread is really important, but so is the correct stabilizer.  Beleive it or not, using the right stabilizer and hooped properly can make or break…
Growing up with Embroidery: How embroidery has changed my life!
Sue | November 21, 2017
Guest Blogger Samantha Brown (my daughter) tells her story of growing up with embroidery, and how embroidery has helped shape her life and learning responsibilities, work ethic and the results of daily hard work- from finding comfort in hearing the machines running to learning how to digitize and create her own embroidery.    Please enjoy…
No more PUCKERING embroidery designs!
Sue | November 14, 2017
I see this problem again and again on Facebook in just about every embroidery group.  My design is puckering, what should I do?  There are a few things to do, but first I am going to get naggy and boring…but listen and pay attention, because if you do things correctly, you should never have puckering…
Quick and easy Christmas/Holiday Gifts you can do now!
Sue | November 7, 2017
Although Christmas and the Holidays seem far away, the Holiday rush is already upon us.  Quite a few people are wondering whether or not to start their Christmas stitching early, or exactly when you should start working on Christmas.  My answer:  NOW!  START RIGHT NOW! The holidays are really only a few weeks away –…
Keep the creativity flowing! Make a list or two!
Sue | October 31, 2017
Being original can be quite difficult at times, it is so much easier to follow along with the crowd.  I love to create, and I love to create with my own style and own ideas.  Once you develop your own ideas, you can easily work them into your embroidery designs.  Here are a few ideas…
Underlay Stitches Part 2 – Fill stitches
Sue | October 24, 2017
Hopefully, you read last week's blog about underlay stitches, and how important they are to embroidery.  If not, here are the basic ideas that we will carry on to this week's blog. Underlay stitches are very important – they are the building blocks to great embroidery.  Underlay stitches provide the foundation for your stitches –…
The Underlying Importance of Underlay Stitches!
Sue | October 17, 2017
Whats the big deal with using underlay?  Why would you add MORE stitches to your design so it takes longer to stitch out?  Underlay doesn't make any difference to embroidery when I stitch it out, so why bother to use it?  You need to understand underlay to keep the quality of your embroidery at a…
CREATING YOUR OWN MOTIFS: It's as easy as pie!
Sue | October 10, 2017
Would you like some motif pie?  Yes, of course you do! Once you get the hang of creating your own motif stitches, you will find it difficult to stop!  It really is as easy as pie! The first things you need are a piece of paper, pencil or pen and a ruler and a compass…
Create your own Halloween Mug Rug with simple squares!
Sue | October 3, 2017
Halloween is fast approaching!  Create your own Halloween decorations starting with an easy but amazing mug rug!  If you can create a square, you can create a mug rug! Can you draw a square with running stitches?  If you can, then you can make your own mug rug!  It's that easy!  And don't forget tons…