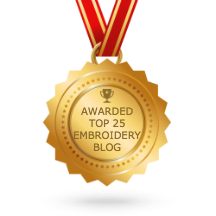 Read the Latest Articles from Industry Leading Professionals John Deer & Sue Brown for Embroidery & Digitizing Tips.
Not all trials are created equal
Sue | September 26, 2017
I love to do research and learn as much as I can.  Lately, I have been researching different embroidery programs and the different tools and ideas that they have.  Most are basically the same, they all have the run stitch, satin stitch and fill stitch and have tools for shortcut stitches, motifs, and fancy stitches.…
Tips for your next embroidery project: Get organized.
Sue | September 19, 2017
Starting an embroidery project:  Get organized. Do you ever stop learning about embroidery?  I am often amazed at how much I don't know!  I love to learn new things, and I am hopping on a new embroidery adventure that is going to require some research. I am learning about quilting for wall hangings that I…
Take the Time to Smell the (embroidery) Roses
Sue | September 12, 2017
An old saying, but still a good saying.  And it is good advice, too! I have been doing embroidery for the better part of 17 years – digitizing, stitching, creating.  It has been the best time of my life, I love my job!  I also work 7 days a week, and often 15 hours a…
Make Embroidery your passion
Sue | September 5, 2017
What does embroidery do for you? Personally, I can't even remember life before embroidery, I have been doing embroidery for so long!  I started out with a very simple single needle embroidery machine and then went up from there:  now we own 6 multi needle machines, and I love every moment of it. I strive…
Tricks for Knits
johnd | August 29, 2017
Digitizing for Knitted Garments Digitizing for difficult fabrics can sometimes be… 'difficult', and knitwear would be considered a 'difficult fabric' by many embroiderers. So when tackling this type of fabric, you'll often need more than just good digitizing techniques to give you a bit of an edge. Let's start with your choice of stabilizer –…
How to Digitize Athletic Uniform Embroidery
johnd | August 22, 2017
If you're thinking about tackling the team uniform market it's really a matter of properly planning your digitizing and production practices. Hopefully we'll all agree that choosing embroidery and appliqué over silk screening definitely has more visual appeal on a set of team jerseys. Unfortunately, we'll also agree that the pricing differences are also just…
Embroidering on Terry Cloth: Digitizing Tips & Techniques
johnd | August 15, 2017
Terry Cloth… Ouch!.. I'll have you know I tried hard to think of some way to make this article a little light hearted and not just a technical manual, so I might as well apologize in advance as its best suited for all us embroidery geeks. Embroidering on terry cloth falls into one of the…
Getting Artistic with Vermicelli (The Forgotten Stitch type)
johnd | August 8, 2017
This is one of those articles that might motivate those of you who like to experiment and stir your artistic flare within your digitizing, but will most likely not be something you will use within your daily practices. There are certain applications within corporate logos to which we have applied this technique, usually in areas…
Stitch Saving Digitizing Techniques
johnd | July 25, 2017
If you are a contract digitizer you'll find you deal with all the different sectors of the textile industry at once. These range from promotional marketing companies, apparel and headwear manufacturers, contract embroiderers and people in the retail market, such as sporting good stores. You feel like your always under and microscope and you never…
JUMP STITCHES: Why you don't want them in your designs
Sue | July 18, 2017
Jump stitches.  Yucch.  Sometimes jump stitches happen in small amounts, but if you are trying to stitch out a design with a ton of jump stitches, you are going to get frustrated and disappointed as your design stitches out.    Let's have a serious talk about Jump stitches.  Seriously, the embroidery world needs fewer jump…