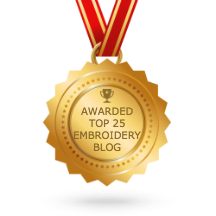 Read the Latest Articles from Industry Leading Professionals John Deer & Sue Brown for Embroidery & Digitizing Tips.
Location, location location!
Sue | May 23, 2017
Stop for a moment and look at your machines. Do you have your machine set up in the right location? Do you know how important the location of your machine can be? Very important! The correct location can affect how your machine runs, prevent thread issues and the overall long term running of your machine. […]
HOOP STORAGE HACK
Sue | May 16, 2017
Can we ever have too many hoops? Nah, every hoop has a specific use! But storing hoops are a different story… Where do you put all of those hoops?? How about a dish rack? Yes, a dish rack, why not? Keep reading, don't give up on me yet! Hoop storage ideas In our production room, […]
Hooping 101: Learn to love your hoops!
Sue | May 9, 2017
Hooping 101: Learn to love your hoops! I hear on Facebook groups and elsewhere on the internet that people hate their hoops. Hate them. They use them only because they have to, and then don't use them correctly! Fighting with your hoops has been going on for a long time! But I am here to […]
Hooping Skills 101: Things you need and things you should never use in your hoop.
Sue | May 2, 2017
Yes. Hooping is a skill, and it is a skill that you must master! It can take time and practice, but you will eventually be able to hoop everything, and have perfect embroidery. Let's start at the beginning – things you need to have around for hooping, and things you should never use in your […]
The Power of Social Media
Sue | April 25, 2017
I often wonder if everyone understands the power of social media, if they really understand how much of an impact that social media can make. Social media like Facebook are very powerful indeed. Let me explain. Facebook is one of the main social media platforms out there- Facebook is fun to use, great to […]
Tension issues and how to solve them!
Sue | April 18, 2017
Tension issues? Clean your bobbin, clean and rethread your upper thread(s) and do the I-test The I test sounds like it should go along with your iPhone and iMac or testing your eyes, but don't worry, it's completely different and has to do with your embroidery machine! I have noticed a growing trend on Facebook […]
Where do I start?
Sue | April 11, 2017
I see this question quite a bit on facebook. Whether you have just downloaded Hatch and completely new to embroidery, that is always the question – where do I start? At Digitizing Made Easy, we have a great place to start – right here! Here are a few things you can do to get started […]
Needle Know-How: Let's get to the point!
johnd | April 4, 2017
Let's get to the point! When that embroidery machine arrived at your door and the tech started it up for the first time, you probably stood there and marveled at all the engineering and technology that must have gone into the precise timing involved in creating stitches at such high speeds. The thing that amazes […]
ITH (In-the-Hoop) Designs! Quick, easy and FUN!
Sue | March 28, 2017
This week's focus is on ITH designs! Although some ITH designs can be very complicated, they can also be simple, too! I am not talking about in the hoop zipper bags or anything like that, I am talking about making headband sliders, stuffies and pencil toppers and things like that – super easy and super […]
In the Spotlight: Hatch Facts Facebook Group
Sue | March 21, 2017
Got questions? Hatch Facts Facebook Group has the answers! Join Hatch Facts for learning, fun and inspiration. Have you been on Facebook lately? Have you joined Hatch Facts? If you have not joined this awesome group, you should! This group is mainly for Hatch users, as well as Janome MBX V5 users and Berninia users – […]