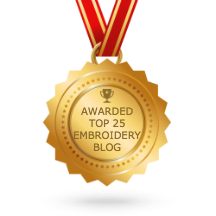 Read the Latest Articles from Industry Leading Professionals John Deer & Sue Brown for Embroidery & Digitizing Tips.
JUMP STITCHES: Why you don't want them in your designs
Sue | July 18, 2017
Jump stitches.  Yucch.  Sometimes jump stitches happen in small amounts, but if you are trying to stitch out a design with a ton of jump stitches, you are going to get frustrated and disappointed as your design stitches out.    Let's have a serious talk about Jump stitches.  Seriously, the embroidery world needs fewer jump […]
Applique: Pre-cut or not to Pre-cut? That is the question!
Sue | July 11, 2017
Applique can get a little bit complicated at times, and can certainly take some time.  Once you have completed an applique design, the work was well worth it!  Applique can make just about anything beautiful if done correctly.  Personally, I love doing applique designs.  The question of the day is, do you pre-cut your applique […]
Embroidery Support: Why you need some support!
Sue | July 4, 2017
Embroidery support! You may think that I am talking about online support or software support or answers to questions you may have. Nope, not that kind of support! I am talking about embroidery support or supporting the actual embroidery with the correct stabilizer – that kind of support. Supporting the stitches is the foundation of […]
Pinterest for EMBROIDERY DESIGNS
Sue | June 27, 2017
I know that quite a few people use Facebook for embroidery – in groups or pages – but do you know how you can use Pinterest, too? Pinterest's boards are full of pictures and great ideas, especially for embroidery. Pinterest can be a wealth of information, inspiration and beautiful embroidery designs. If you are new […]
ORGANIZE YOUR SPACE: Ideas to get sew organized!
Sue | June 20, 2017
Get organized! Some days I get so busy that my workspace looks like a bomb went off! Stabilizer everywhere, thread all over the place, and absolutely no scissors to be found, ever. It is so hard to take the time to get everything organized in your sewing room and to be able to keep it […]
EMBROIDERY STICKY SPRAY: things you need to know!
Sue | June 13, 2017
There are tons and tons of embroidery tools and items that will help you with perfecting your stitch outs, and chances are you have a few in your sewing room already! As with any helpful items, some tools are handy, and some tools can be overused and cause issues. Enter temporary adhesive spray! The […]
3D Foam Memories
johnd | June 6, 2017
We had a post last week on our Hatch Facts Facebook Group asking about digitizing for 3D Foam and it brought back a flood of painful memories. Back in the early 90's was the first time I saw 3D Foam hit the market, at the time we ran a contract embroidery house and did customer […]
Balance your embroidery
Sue | May 30, 2017
Embroidery is all about balance! Your thread and bobbin have to be balanced to work, and your embroidery designs and placement also have to be balanced. Have you ever finished some embroidery work and looked back and said "hmmmm" knowing there is something wrong, but not quite sure what it is? Balance and placement, as […]
Location, location location!
Sue | May 23, 2017
Stop for a moment and look at your machines. Do you have your machine set up in the right location? Do you know how important the location of your machine can be? Very important! The correct location can affect how your machine runs, prevent thread issues and the overall long term running of your machine. […]
HOOP STORAGE HACK
Sue | May 16, 2017
Can we ever have too many hoops? Nah, every hoop has a specific use! But storing hoops are a different story… Where do you put all of those hoops?? How about a dish rack? Yes, a dish rack, why not? Keep reading, don't give up on me yet! Hoop storage ideas In our production room, […]